I just love preschool educational toys. I can't go into a toy shop without buying some type of learning toy.
The worst of all is that I also buy them as gifts. I know that a child should also just play, but wow, who does not want to play with the toys we have in this century!
Yes, they are very expensive but if you look closely. You pay for quality. All the cheap products available is all made in China - mass produced. Plastic and not durable. I'm talking about real toys. Wooden toys, laminated cards, sturdy puzzles, cardboard books and many others.
In the same breath, you need to look at the safety standards of these toys. How are they made and with what. So, I will rather stick to the expensive toys and know that you get the best.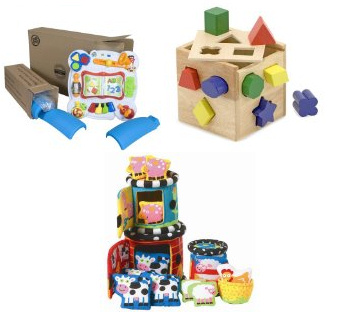 Shop For Educational Toys
There are endless benefits in buying learning toys.
You do not have to re-invent the wheel. You buy something that already works.
It is all marked on the boxes according to the age. Obviously you will need to determine whether your child is ready for it or not. Children develop differently.
When you are really busy and can't give a 110% attention to your child, you can just take the toy out of the cupboard and let them explore!
A young child, your child is most open to learning as well as suggestion. This means that your child may find a toy in anything around the house or they may be most interested in the toys you buy for them. Most usually any thing can be turned into a toy.
Another fun idea is to Make your own preschool educational toys!.


---