Fun

What does Preschool graduation means to the children?

Our preschool graduation ideas will help you give your preschooler the most wonderful graduation.

Now what does preschool graduation means tothe children? It means the end of their baby days and the beginning of their time in the big school. That is why we should make this day a day they will never forget. I've thought about various preschool graduation ideas and then decide that this is what I would do to make it as memorable as possible:

Moms besure to take a lot of pictures and even send them to the local newspaper as this is a big day for the little ones.

Now what do we need for this big occasion? You need to decorate the classroom or your home.
What You Need For Your Preschool Graduation
Here is a short list of what you need to get:
You can design your own with almost any computer program, OR use these that I have already designed.

Just click on names below and then print out on paper or card our FREE Preschool Graduation Diplomas.

Kindergarten Student of the year


Certificate of Completion


Graduation Diploma


Preschool Diploma


ABC Border Diploma


Preschool Certificate/Diploma
This can be made with material or with paper
This bag is basically one of the most important items. The kids will just love them as they are packed full of school goodies and a present to end the day of.
Personlised your invitations and send them to the invitees well in advance. You would like to have every person that is important to your child present. Do not forget the grandparents.
Streamers

Balloons

Banners

Confetti
These can all be purchased at your local stationary supplier. You might even find other items you can decorate with.
Do not forget the preschool graduation songsand preschool graduation poems. They form a very important part of the ceremony.
There are many other preschool graduation ideas but these are the most basic. You can incorporate other preschool activities if you have enough time. If it is going to be a whole day graduation, then you can start it off with something like a parents child competition. Choose a few activities that will be interesting to both.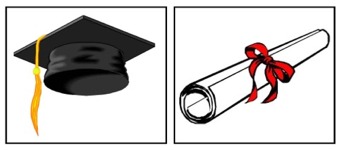 If you are preschool home schooling or have an individual graduation party, then you can still use our preschool graduation ideas.
Just ensure to personalise everything. If you look at the list of goodies you can already imagine what to do with them all. Itis simple.
How To Organize Your Pre-school Graduation
Invites to be distributed at least 1 week prior to the event. Make sure that you invite everyone and do not miss any important person.

Decorate the room with streamers, balloons, banners and all the crafts the kids did over the last year. It will be nice if you can have a place for each child's artwork against the wall, so the parents do not struggle looking for it.

You also need to send a letter to the parents requesting them to participate in raising funds for the back to school bag. This is a little bag that can be filled with crayons, pencils, sharpeners, erasers and paint for the big school.

Buy something small for each child to remember their preschooling by and put it into the bag.
The Graduation Process
Other important preschool graduation ideas is the graduation hat. This can be made or purchased. It depends on the budget available.
Play a song from your choice - Josh Groban's - You lift me up is a good choice, but there are many different songs that will be suitable.

For the graduation, you will need to make the kids line up. As you call their names, handthem their preschool certificate / diploma, shake their hand and let the parents take photos.

It is also a good idea to take a group photo afterward. This photo could become the little gift I was talking about earlier.

Before the kiddies leave,let them stay and recite their poems to the parents.

This is also the time for the teacher to allow the tears to run down her face.She can end it all off with a poem dedicated to the kiddies.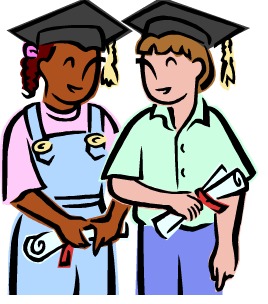 Then the party begins. Lots of games and food and fun. Make sure the food is easy and not messy. Little pizzas, cocktail pies and vegetable stickswill be just great. Do not forget the cake. You can make small cupcakes or one big cake that is made especially for the occasion.
Preschool graduation ideas are endless and it all depends on how much you would like to spend.
Preschool Graduation Ideas that you can combine with other preschool activities!
---