Welcome to our free preschool printables. You will find a wide variety of preschool worksheets that endorse early preschool development. We are continually adding more and more free printables.
We will be focusing on educational worksheets that are fun and easy to do. The preschool worksheets will introduce various skills and concepts such as:
Shapes
Learning about shapes is fun and educational. It teaches preschoolers a skill that will help them with reading, writing and maths. They first recognize circles, triangles and squares, which will then help them recognize numbers and letters. Download and Print Out our 17 page Shape Shifter book for a few exercises. You can use it as a stand alone or as a support for your existing curriculum.
Handwriting
Most moms can only recall when their child rolled, crawled or walked for his/her first time. We do not recall when they pick up small items between their thumb and finger or even transfer an object from one hand to the other. Fine motor skills are the way we use our fingers and hands. How we manipulate tools such as crayons and scissors.
Handwriting plays a very big roll and prepare them for formal education and for this we have hands-on activities to enhance and develop the fine motor skills. Download and Print out our Free Alphabet Printables, so they can practise writing the letters of the week.
Numbers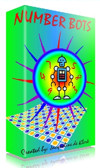 I believe this is one of the most important skills anyone can have. Download and Print out our wonderful lesson plan called Number Bots, that will enhance your preschooler's learning process. The 55 page activity book guarantees lots of pure enjoyment. Use this book as your number curriculum. I'm sure your child will never forget their 1 - 10.
Colouring Pages
Preschool colouring pages are definitely one of the most well known preschool activities. You can ask any mom what is one of the first things she bought her toddler and I'm sure she will say a colouring book.
It is important for kids to colour in as they practice their fine motor skills and prepare them for writing. Choose pictures that are not too difficult to colour. Less lines, bigger and fun pictures. You want them to learn not to colour over the lines and let them feel a sense of achievement.
Download and Print out our Free Preschool Coloring Pages for heaps of fun.
Letters
Children's knowledge of letter names, sounds and shapes is a strong indication of their success in learning to read. If they do not know the letter names and sounds, they might have difficulty in recognizing words. Children cannot apply the alphabetic principle until they can recognize, sound out and name a number of letters.
Ok this one is not free but it is great value:-) Our Alphabet Adventure will be of great value to ensure these 'letter' skills are well developed. It includes activities, recipes, games, crafts, bible stories and many more. Go and take a look here.
Newsletter
We will also have a monthly free magazine to everyone that subscribes or downloads anything from our site. This magazine will be full of preschool colouring pages and preschool printables. There is no need for you to purchase any other book anymore. You just need to print our magazine and watch your child enjoying it. Subscribe today and receive another two free books!
---