Preschool puzzles are definitely one of the best activities for a preschool child.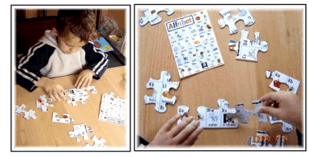 Preschooler Skills developed
Introducing preschool puzzles to children at a young age is an enjoyable way for them to develop important manual dexterity, memory and coordination. Other skills include the ability to reason, analyze, sequence and surely develop a logical thought and problem solving skills.Jigsaw puzzles utilize specifically shaped pieces that fit into each other to form a combine picture. Completing simple puzzles assist with hand-eye coordination but also develop a child's memory. Preschool puzzles encourage and develop imagination, critical thinking, motor skills, eye-hand coordination and concentration.
Educational Preschool Puzzles
Educational preschool puzzles are designed to teach a specific learning objective. Puzzles such as a map of the world, the solar system, shapes, colors and seasons is only a few to mention. While the puzzle is being build, it forms a discussion point with the child. This is especially useful for families that are homeschooling. Now, you need to remember that the educational jigsaw puzzle on it's own will not teach a child everything about the subject.
For example: You buy your child a puzzle of the solar system. Building the puzzle is not enough to pass the test. It is purely a fun activity that can be incorporated with various discussions while building the puzzle. In isolation it just build the normal skills as discussed.
Preschooler Learning Styles
Every child is different. The advantage of preschool puzzles are that it involves more than one type of learning aptitude to complete the process. The most obvious style is visual. They start to see the whole picture while they build it. Then puzzles also cater for the kinestheticlearners which is more practical with hands. In solving puzzles, children use their hands and minds to test, fail, try again and, finally, to succeed. This results in self-confidence and pride which is essential elements of a child's educational experience.
Have you every wondered how a preschooler build a jigsaw puzzle?
Do yourself a favor and watch them, they often randomly built, there is no plan how to do it. They merely look at the picture and then chooses and builds thepieces that obviously fit together. They do eventually complete the puzzle, but they do not plan at all.
There is also no methods taught to children, so they keep on doing it this way over and over.
The Plan
Use any old puzzle with a plain cardboard. Preferably use one with no more than 24 pieces.

You build the puzzle first - picture side up.

Place a piece of cardboard, on top of the completed kid jigsaw puzzle.

Turn the puzzle upside down onto the new surface - picture side down... plain cardboard reverse side up.

Take a ruler and draw a square a few millimeters away from the edges.

Then mix the puzzle up again, and ask them to build. Let them build it like that for a few times.

What is happening is that your child is learning to see the edges of the puzzle first. This helps them to plan.
Preschool puzzles proves to promote cognitive, motor and creative skills in children, over and over again. Preschool games such as puzzles should not only be educational but also interesting enough to keep their concentration and to ensure they have fun. So that preschool learning is fun - That is the way we learn....
PS: We have two online preschool puzzles that you child can do. Let them try it out. If they like it, then let us know and we will put more on our site!
---